6 Important Considerations before Using Architectural Shingles
Using architectural shingles should only be chosen after some careful consideration and some research. These products can be a terrific choice in some situations but the worst possible pick in others. Whether you are installing a new roof or simply replacing an existing one this type of shingle can be a very popular choice for many homeowners.
Organic and fiberglass products are available in laminated (architectural) grades that offer a textured appearance.
Source: National Roofing Contractors Association
The popularity of using architectural shingles has increased greatly over the last few years. Some factors involved in making these shingles so widespread are:
Appearance
Affordability
Quality
Variety of product options
Various colors, patterns and textures to choose from
Durability
Neighborhood aesthetics
During the past several years, architectural, laminated asphalt shingle use has surpassed the use of conventional three-tab strip shingles and now is more than half of all asphalt shingle products installed.
Source: ProfessionalRoofing.net
1. Using Architectural Shingles May Cost More
If you plan on using architectural shingles then be prepared for the price. These picks can cost twice as much as three tab versions, and they may be more expensive than some other shingle products as well. The cost involved must be compared to the benefits that you will get before you can decide which way to go with this type of home improvement project.
The higher cost involved with this type of shingle is usually offset by the advantages that they offer. If you make a decision based on cost alone then you could be missing out on the best possible material to cover your roof with. In many cases the higher price is worth it, but that may not be the case in your circumstances.
As with most roofing shingle products, there are different grades and weights of architectural shingles. If using architectural shingles is a high priority but you have a limited budget, you may want to consider using a laminated shingle that is less heavy.
2. Are You Having a New Roof Installed or Just Replacing Shingles?
You need to look at whether you are having a new roof installed or whether you are using architectural shingles to upgrade your roof and change the appearance. This is a big consideration, and it can affect the cost if old roofing materials must be removed and disposed of. In some cases, these materials can be placed over an existing layer but not always.
If your old roof is still in good condition and you just want to replace some damaged or missing shingles then your best bet is to go with the same type and brand of your existing material. This will help the new product blend in with the existing roof and provide the best appearance.
3. Appearance is Important for Your Home Value
If you are using architectural shingles then the appearance is a plus. These products can help provide a lot of visual appeal to any home and neighborhood. However, you need to choose the right ones for your specific location and home type to get the desired results. Your home should blend in with neighboring residences, not stick out like a sore thumb.
If your home is located in an area with a homeowners association, always check to see if a certain type of shingle is required or if some types are off limits.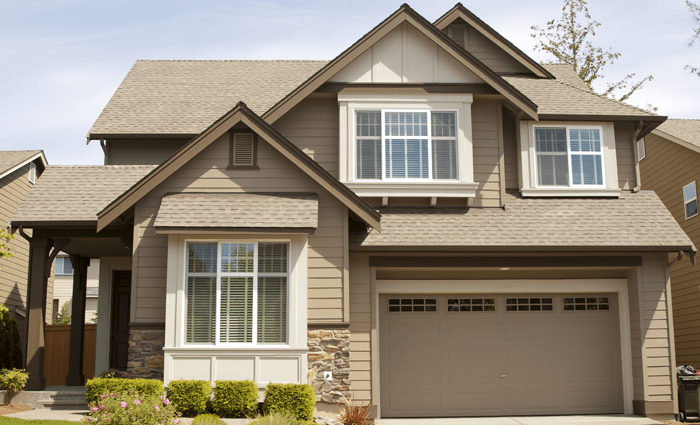 4. Architectural Shingles Offer Great Variety in Colors, Textures, and Patterns
If you are using architectural shingles then you get a wide variety of product choices to choose from for your current replacement or new roof installation. You will find many colors, a large range of patterns, and even different textures from which to choose. You are not limited to just a few product selections, once you start looking you may be surprised at what you find.
IKO brand shingles have a user-friendly roof viewer where you can see what a house will look like with a certain type and color of shingle. Also, click here to see our Shingle Brand and Color Picker page.
5. A Heavier Shingle Base Usually Means More Durability
When you are using architectural shingles, you will get a product that is very durable. The base of these options are usually thicker and heavier, and that means it will stand up better over time and resist any severe weather conditions more effectively. This can be a big consideration if you live in an area where severe weather is a big possibility.
The shingle base provides strength and weather resistance. It is made from a fiberglass mat or organic felt. It also improves the fire resistance and UV degradation.
6. Resistance to Several Factors needs to be Considered
Before you decide on using architectural shingles for your new roof or current replacement, you need to look at the resistance offered to many factors. These factors should always include:
High winds
Insect damage
Extreme heat
Low temperatures and colder climates
Algae
Mildew
Fire
Impacts
Color changes
There are some great reasons for using architectural shingles. Crane Roofing offers a vast array of brands and colors of architectural shingles. If you have any questions or need any further information please feel free to give us a call at 314-966-4889 or 636-724-1300.
What else should you look at and consider before you decide on using architectural shingles and why?