Siding Looks Great and Insulates
Siding can make or break the look of your home or business. For great curb appeal to create a fantastic first impression Crane Roofing uses only the best quality siding products. Make your exterior a showcase!
New siding gives you a fresh new look. It's an exterior change that can make a world of difference. But new siding does not stop there. Today's siding not only looks great but provides better insulation. You can even save money on your utility costs!
Siding to Fit Your Budget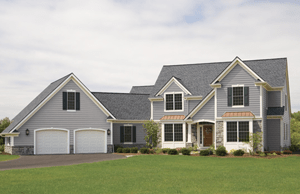 For an affordable and enduring look we have a siding product that will fit your budget. We use only siding products that have structural integrity designed to give you remarkable beauty that lasts and lasts. Siding, soffits, trim, and fascia boards are all part of the exterior treatments you need to complete your siding needs. We use only the best products that are tailor to fit your vision.
Siding Products in a Variety of Choices
Add depth and dimension with different products and colors. Your style can be expressed in classic colors, deep shades, or accented with contrasting trim. Whatever your vision Crane Roofing can make it happen. Our goal is to provide you a unique exterior that is just right for you.
From traditional Colonial to contemporary designs whatever your choice new siding can turn your house into a home. From woodgrains, and different gloss finishes your exterior will have a look that provides protection season after season.
Siding comes in a multitude of colors and design. Click here for siding product information and designing your home with the colors that will look best.
Contact us for more information on different brands and colors.
Ready to give your home a fresh new look? Don't wait!
Fill out our quick form today to get started on transforming your home. Let's make your dream home a reality!