Architectural shingles take your home or business from boring and bland to stylish and beautiful. They are the newest generation of roofing products that are high quality and distinctive. If it is time for a new roof, consider these shingles that will improve your curb appeal and your property value.
Architectural Shingles for a Classic and Rich Appearance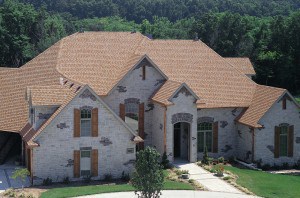 Architectural shingles have an appearance of richness and dimension. Their extra thick construction is weather resistant and protects your home from the outside weather elements. The combination of great looks and durability make this the choice of many homes and businesses.
These premium shingles are laminated and thicker than traditional three tab shingles. They were first introduced in the 1970s for property owners wanting a roofing product of higher quality that provides a rich look. Since then many different varieties have come on the market and most major manufacturers include them in their product line.
Some architectural shingles replicate the dimensional and rustic look of cedar shakes. It's an economical way to get the look of  wood without the high price.
Improves the look and value of your home without the high costs or liabilities associated with wood
Source: Tamko.com
Architectural shingles make your home a high end visual showcase. They come in a wide variety of colors for the perfect match for your exterior. Different weights and warranties are available.
Perfect for re-roofing or new construction
Improves the value of your home
Provides an attractive exterior appearance
Large assortment of colors
Made with a fiberglass mat
Architectural shingles have a bold appearance with shadows and thick edges. They are ideal for any type of home or business. From traditional to modern and contemporary, these shingles will make your property the talk of the town.
Call us today at 314-966-4889 or 636-724-1300! We're ready to get started putting architectural shingles on your property.