If a cedar shake roof is in your future, look no farther than Crane Roofing. We have been installing cedar shakes for over 40 years. We use top quality products and provide expert installation.
Wood shingles made from cedar are a popular alternative to asphalt and fiberglass shingles. Their look is one of distinction and strength. Cedar roofs are centuries old and they are what modern man-made roofing materials try to imitate.
New Cedar Shake Roof for your Home or Business
We apply only top quality cedar shake roofs. Let our professionals install a new cedar roof you'll be proud of for years to come.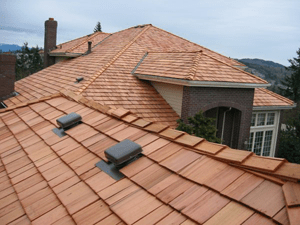 Cedar's natural resiliency makes it a strong roof in extraordinary weather situations – including hail and snow. Crane Roofing is well-trained and skilled in the proper application of cedar shake roofs. Being that your roof is the main protector of your home we make sure your cedar shake roof will protect your home from inclement weather.
Cedar Shake Roof Treatment
Cedar shingles can start to dry, curl, and crack sometimes very quickly. The silver patina that gives cedar its weather-beaten look is essentially the start of fungal growth.
If your roof color has faded noticeably you can test it to see if it needs to be treated. Simply put some water on the shingles and see if the shingles absorb the water. If some of the water is absorbed it's more than likely you need to have a cedar roof treatment applied.
Cedar shake roof treatments are highly recommended to preserve and help extend the life of your cedar roof. Always use a roofing professional to clean and treat your roof. Don't settle for a painter that applies treatment as an added service. Cedar roofs are more delicate than you might think. The wrong methods can damage your roof even more.
How to Determine if You Need a New Cedar Shake Roof
Shingles are starting to curl
Shingles have mold and algae
Shingles appear dry and cracked
Ceiling stains and bulging
Soffits and paint around roof is cracked and appears weakened
For more information or to schedule a free estimate contact us at 314-066-4889 or 636-724-1300 or complete the form on our contact page.